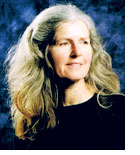 Melanie Guile knew she wanted to be a writer from the age of seven, but only began her first novel for children after the birth of her second child. Since then, she has published a wide range of fiction and non-fiction titles for both children and adults.
Melanie June Guile was born in England in 1949 and migrated to Australia at the age of five. She was educated at Methodist Ladies' College and Melbourne University where she graduated with a Bachelor of Arts degree, a Master of Arts and a Diploma in Education. She worked for several years as a lecturer in children's literature at Melbourne University's School of Early Childhood, and published many reviews and articles on children's books. In 1996, her junior fiction title, Revenge of the Green Genie, was published by Scholastic Australia, followed by Mr Venus, Computer Wizard in 1997.
Since then, Melanie has written around 60 non-fiction titles for Heinemann Library (Pearson Education) and MacMillan, plus other works of fiction and non-fiction for publishers in Australia and overseas. Melanie was also commissioned to write or contribute to the official histories of three girls' schools - St Catherine's, Clyde School and The Hermitage.
For some years now, Melanie has been working full-time as a professional writer. When she is not at her desk, she enjoys sketching, bush walking, gardening and singing in choirs. She lives in inner-suburban Melbourne with the youngest of her three children, a dog and a large and cantankerous cat.