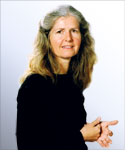 Melanie Guile is the author of around sixty books for children and adults. Her first title was published in 1996, and she now works as a full-time writer based in Melbourne. Published works include non-fiction resource books for children, novels for younger readers, and adult history titles.


Awards

In 2005, Melanie Guile's non-fiction series for Heinemann Library - Children in Australian History - was awarded winner in the Primary category of the Australian Publishers' Association's Australian Awards for Excellence in Educational Publishing.
In 2006, one title in this series, 'Little Felons', was also recognised as a Notable Book in the Children's Book Council's Eve Pownall Award for non-fiction.
Melanie's series for primary students Stories from Australia's History published by MacMillan Australia was shortlisted for the above APA award in 2010.