Clyde School 1910-1975, An Uncommon History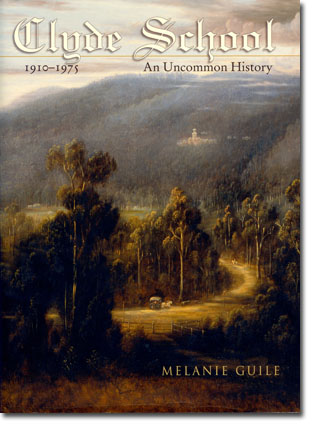 Clyde School had a magic that wove a spell around the hearts of those who lived and worked there. It bonded its Old Girls together in a unique shared experience. They were a select few – only 2,066 students attended the school during its 65 years of existence – and they inhabited an uncommonly beautiful and privileged world.
It has been my task to be an imaginary interloper into that world – an outsider peering in through the windows of the Senior Sit, lingering in Iceberg, jostling with the crowd around the nursery fire – to eavesdrop on voices from forty, sixty, ninety years ago. Those voices are still clear and strong despite the passing of time. From them I have learned a little of what it was like to be part of Clyde School, from its first days at Alma Road in 1910 to its closure in 1975. I have come to know the six headmistresses, too, and to see how they shaped the school. But I am not an Old Girl and so, in writing the history of Clyde, I have tried to let the girls tell their own stories. Most are positive and happy but some are not. Like all schools, Clyde did not suit everybody; it is as well to say so plainly, and to allow some of the negative impressions to be aired.
Most girls, however, loved the school with its freedoms and opportunities for mischief, its rituals and traditions, and the rugged independence it bred in its pupils. When it closed in 1975 to amalgamate with Geelong Grammar, there was a sense of irreparable loss. Some members of the Clyde Old Girls' Association refused to let the school die and kept its memory green. As the decades passed and the centenary of Clyde School approached, they determined that its story would be told. In true Clyde style, they approached the complex task with a will. A Book Committee was formed, tasks allotted, a timetable set, and away they went. It is no small thing to see a book through all its many phases to completion – but they did it.
And now their determination has ensured that the 'lost world' of Clyde emerges from the mist again like a latter-day Brigadoon. I hope that those of you who were part of that world enjoy revisiting it in these pages, and find there some familiar, friendly spirits.
Melanie Guile
from preface of Clyde School 1910-1975, An Uncommon History
Foreword by Dame Elisabeth Murdoch
Melanie Guile is to be warmly congratulated on having covered every aspect and period of the history of Clyde so very well. She has paid tribute to the Headmistresses, the members of Council, the dedicated teaching staff and those splendid people who, over the years, kept the wheels going round in the house and garden.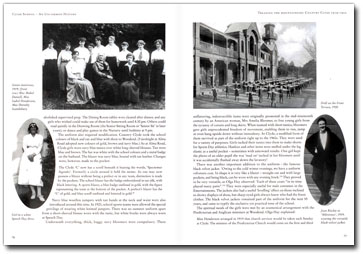 Miss Henderson, the founder of Clyde, had a great ability to change her ideas to manage changing times. Her ideals, aims and objectives were admirable, and what is most significant to me is that all successive Headmistresses were inspired and influenced by her ideas of what constitutes 'desirable education'. Melanie Guile has portrayed all six Headmistresses sensitively, each of whom, in her own way, contributed so much to Clyde's fine reputation for producing well-balanced, responsible and useful achievers.
In recollecting my own school days, I wrote in 1985: 'Distance lends enchantment. Sixty years is a long time for one's recall to be accurate, but I remember my five years (1922-26) at Clyde with warm affection and gratitude. I have never forgotten my first journey to Woodend in a railway carriage packed with excited and happy girls all out to convince me that I was on the way to 'The Best School of All'. The trip up the mountain in old Mr South's wagonette was a thrilling experience. The track was appalling and quite perilous and the challenge to the driver, horses and girls was the forerunner of many endurance tests ahead of us at Clyde. Life was rugged during the long cold winter, but I believe we were the healthier for those Spartan conditions, which today would be considered unbearable, as indeed would be the isolation.
Parents visited very rarely, if at all, and telephoning was allowed only in real emergencies. We became self-reliant and had to take the hard knocks, disappointments and the discipline, without which I consider we would have been less secure. We soon learned, living together for long periods, that concern and consideration for others were the best ingredients for happiness and satisfaction. Of all my treasured memories of my school days, the most precious would be that of the beauty and enchantment of our glorious bush and country surroundings. They were at the heart of my happiness in being at Clyde.'