What is Australia? series - Heinemann Library (Pearson Education)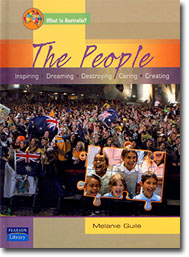 Australia is many things. It is a vast, brown land stretching from the tropics to the icy Southern Ocean. It is a population made up of many cultures and languages. It is a collection of plants and animals found nowhere else in the world. And Australia is a nation, small but wealthy, ruled by the people in a democracy.
The What is Australia? series explores a range of viewpoints about Australia. Each title covers different facets of Australia including the country's history, economics, politics, environmental issues, indigenous perspectives and the arts. The series invites lower secondary students to compare and reflect on different ways of seeing key aspects of life in Australia.
The Land
The People
Plants and Animals
The Nation